Academy at Palumbo Newsletter Week of September 24, 2018
Academy at Palumbo Newsletter
Week of 
September 24

, 2018
Griffin Pride: Nothing Less Than Success!
GENERAL UPDATES AND SCHEDULES
Weekly Updates 
Click 
here 
for this week's schedule and updates.
SPORTS

See the online schedule here
STUDENT ACTIVITIES
& CLUBS
Find a list of school clubs & activities offered 
here
.
PALUMBO HOME AND SCHOOL ASSOCIATION
The  Annual membership form can be found 
here
!
---
Help Support the Home and School Association by Making A Donation
Programs and Resources
The University of the Arts Pre-College Programs
"Do Saturdays differently! Pre-College Programs Saturday School fall 2018 registration is open for 9-12 graders interested in learning a new craft or building their portfolios. Classes begin Saturday, Oct 13."
College Possible
"College Possible is making college admission and success possible for low-income students through an intensive curriculum of coaching and support."
Click here to view a seven-step guide to applying for college.
PhillyCoder Dojo
Learn to code for free at this weekly program. PhillyCoder Dojo equips youth with creative coding and development skills, opening a door of future possibilities for students. Locations and dates are located here.
Mighty Writers
Interested in writing? Mighty Writers runs free daily workshops all across Philadelphia for writing as well as teen programs, mentorships and college prep resources. Visit the online calendar here.
After School Activities Partnerships 
An online directory of hundreds of community-driven after-school activities and resources for Philadelphia youth. Visit the event calendar here.
Scholarships and Contests
QuestBridge National College Match (deadline September 27, 2018)
"The QuestBridge National College Match is a college and scholarship application process that helps outstanding low-income high school seniors gain admission and full four-year scholarships to the nation's most selective colleges.


College Match Scholarships, which are provided by participating colleges, cover the full cost of tuition, room and board, are loan-free, and require no parental contribution.
If you are a student who has achieved academic excellence in the face of economic challenges, we encourage you to apply. QuestBridge's college partners are committed to making college affordable for all students — regardless of financial background — and offer generous financial aid packages that cover 100% of demonstrated financial need."
Master List of Scholarships for Low Income Students
"Think you can't afford college? Think again. I'm a college student and know what it feels like to be a bit tight, but with scholarships for low income students, you can find ways to afford a higher education!"
The Philadelphia Foundation Scholarships
A comprehensive list of more than fifty scholarships available to high school students.
PhillyGoes2College
"PhillyGoes2College guides students through the process of applying and transitioning to college and other secondary opportunities. Whether you're going for the first time or coming back as an adult, we'll help you find the right programs, community resources, and financial supports to be successful."
Find an online list of national and Philly scholarship opportunities here as well as other resources on the website.
Scholarships for First-Generation College Students
These scholarships are specifically awarded to high school seniors who will be the first in their family to attend college.
Volunteer Opportunities
"Founded in 1996, the Greater Philadelphia Coalition Against Hunger strives to build a community where all people have the food they need to lead healthy lives. The Coalition connects people with food assistance programs and nutrition education; provides resources to a network of food pantries; and educates the public and policymakers about responsible solutions that prevent people from going hungry."
Philly Reading Coach
Support literacy for elementary students by becoming a volunteer reading coach.
MANNA
Help prepare meals for individuals with serious illnesses in need by helping cook, bake and prepare meals in the MANNA kitchen.
Sunday Breakfast Rescue Mission
Help serve meals to the homeless during daily lunch and dinner services. Application here.
Habitat for Humanity
Volunteer to help build and repair homes for those in need across Philadelphia.
Philadelphia Animal Welfare Society
Support and care for homeless animals by volunteering at a PAWS adoption center.
Mural Arts Philadelphia
Connect with the Philadelphia community through public art.
TeenLife Philadelphia Volunteer Opportunities
"There are many opportunities for middle and high school students to get involved with community service in Philadelphia. Whether you are interested in the environment, medicine, education, mentoring, sports, community-building, or working with elders, children or animals, there is a volunteer program to fit your schedule. Some volunteer organizations need help during the school year; others are summer programs that might include overnights or travel. All offer teens the chance to discover new interests, friends and skills."
City Life
Black Lives Matter Philly + cineSPEAK Film at Malcom X Park 
(Wednesday September 26, 7 – 10PM)
"Black Lives Matter Philly + cineSPEAK : alternative cinema proudly present Louis Massiah's documentary BOMBING OF OSAGE AVE at historic Malcolm X Park (51st + Pine).
ABOUT THE FILM:
Bombing of Osage Ave: A documentary produced and directed by Louis Massiah for WHYY-TV 12 Philadelphia, and written and narrated by Toni Cade Bambara. On Mother's Day, 1985, a virtual army of city and state police converged on a quiet block in historic Cobb's Creek, a blossoming neighborhood of parks and children, aluminum siding and basketball stars nestled in the heart of Philadelphia's African American community. By the next day, 61 homes were destroyed and 11 people were dead, all members of the communitarian MOVE organization. In this, the winner of 1987's Global Village Best Documentary Award, Massiah establishes the setting for the tragedy early on, and Bambara's poetic narration draws us deeper into the drama."
ICA Free for All (Wednesday September 26, 6 – 9:30PM @ 118 S 36th St)
"FREE FOR ALL is ICA's biannual event for the public to view our exhibitions (Cauleen Smith & Ree Morton!), witness special performances, and enjoy free food and drinks.
Join Farid Abdul Bari-Barron, keyboardist/pianist of the SUN RA ARKESTRA, along with his quintet SUNSHIP, for a special musical performance featuring the Minimoog in solo and ensemble settings. Build your own synthesizer, experience and explore various Moog Music Inc.electronic musical instruments, and imagine your own soundscape."
Black Panther in Clark Park (Friday September 28, 6 – 10PM @ Clark Park, 4300 Baltimore Ave)
"It's WAKANDA FOREVER in Clark Park! Wear your best superhero outfit and take an adventure to Wakanda to see the smash hit Black Pantherwith a crowd under the stars! We'll be welcoming staff from Amalgam Comics & Coffeehouse, the only black-woman owned shop of its kind for activities, giveaways, and a costume parade. Come hungry and grab food from Baby Blues BBQ Philly, Foolish Waffles, and Lil' Pop Shop. Bring your blankets and chairs and enjoy a free movie in beautiful Clark Park!
The movie will start shortly around 7:15 (when the sun sets completely).
About this film: The worldwide smash tells the tale of T'Challa, the King of Wakanda, as he rises to the throne in the isolated, technologically advanced African nation, but must battle when his claim is challenged by a threatening outsider."
March to End Rape Culture 2018 (Saturday September 29, 11 AM – 2PM @ Thomas Paine Plaza, 1401 JFK Blvd)
"The March to End Rape Culture (#MTERC) is an event raising awareness about rape culture and its effects across society. This annual event is a monumental occasion for Philadelphians to learn about the widespread issues related to rape culture—a culture where sexual violence is accepted as a part of everyday life—and what is being done to end it. It is a supportive and empowering place for survivors of rape and abuse across all backgrounds to speak out and be heard, and a place for survivors and their advocates to connect with a wide variety of local activists and resource groups."
GO WEST! Craft Fest (Saturday September 29, 11AM – 5PM @ The Woodlands, 40th and Woodland)
"Shop 100 local makers of jewelry, ceramics, home wares, accessories, original art, prints, stationery, clothing, children's items and unique treasures. Enjoy live music, food trucks, children's activities and acrobatic performances by Tangle Movement Arts."
Opera on the Mall (Saturday September 29, 7PM @ Independence Mall)
"Pack your picnic baskets and blankets for a FREE, big-screen broadcast of We Shall Not Be Moved!
Now in its eighth year, Opera on the Mall has attracted nearly 30,000 opera fans and newcomers to Independence National Historical Park for an evening of opera under the stars. Have your photo taken in our free photobooth or grab a bite from food trucks on 5th Street.
About the opera: Combining spoken word, contemporary dance, classical, R&B, and jazz singing, We Shall Not Be Moved tells the story of five North Philadelphia teens on the run. Their confrontation with a local police officer rises from the enduring ashes of the Philadelphia Police Department's 1985 bombing of the MOVE compound in West Philadelphia. This opera asks "For whom America the Beautiful?" and raises timely questions about national identity, race, gender, the failure for some in the public education system, and personal responsibility. With music by Daniel Bernard Roumain, libretto by Marc Bamuthi Joseph, and directed by Bill T. Jones."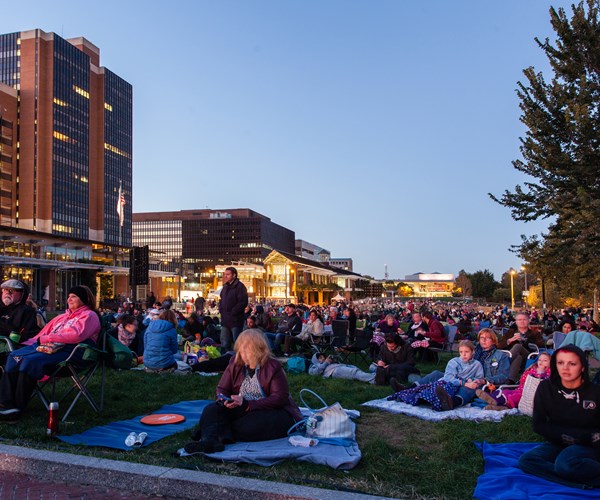 Philadelphia Fun Guide
"Philadelphia is a great place to be a teen! The city is filled with so many interesting and amazing arts and culture events happening from West Philly to Center City and the suburbs. One of the great perks of being a teenager in Philadelphia is that you get access to several awesome museums with the STAMP pass, for FREE!"
ACCESS Card
Visit over thirty five local museums, science centers, gardens, historic sites and cultural attractions at a rate of $2 per person. Residents who "monitor their government issued cash, food, or medical benefits with an EBT card" are eligible to become an ACCESS Cardholder. One ACCESS card enables up to four family members attending at the discounted rate.
Indego30 Access Pass
Enjoy biking around Philly? Individuals with an ACCESS card can enjoy unlimited 1-hour trips using Indego bikeshare for $5 per month.
Students at Museums in Philly (STAMP) Pass
Open to all Philadelphia high school students, the STAMP pass offers free admission to Philly museums, attractions and special events. STAMP seeks to increase teen access to Philly's vibrant art and culture scene.
Free Events at the South Philadelphia Library
An online directory of daily events and resources including career workshops, learning CPR and even jazz concerts.
Palumbo Newsletter compiled by Michelle Lyu and Justin McDaniel.
For any questions, please contact Justin McDaniel at jmcdan@sas.upenn.edu